There are Several Types of Clear Braces
The term "Clear Braces" is often misunderstood, so let's eliminate the confusion first. The old and traditional method of orthodontic treatment involved the use of full metal bands around each tooth. These metal bands contained metal brackets through which the arch wire runs and is attached by a ligature made of very tiny wire or small elastic bands. The teeth are then moved into place by the different forces applied. Later, these metal brackets were simply bonded to the fronts of the teeth and the arch wires worked similarly. Then tooth-colored plastic brackets were developed which were more aesthetic but they were prone to fracture as well as stain. After that came the ceramic brackets which were stronger, more aesthetic, but slightly more expensive. The tooth-colored ceramic brackets along with the tooth-colored ligature elastics, created a more aesthetic situation which often appealed to the more adult patients. The plastic and ceramic brackets were known as clear braces. Plastic or ceramic brackets require more office visits for adjustments and repairs than conventional stainless steel brackets. And now there is a totally clear bracket called Inspire ICE which takes on the shade of the tooth.
The latest trend for "clear braces" is the Invisalign concept. Invisalign. ClearCorrect, Smart Moves, Inman Aligner and OrthoClear are brand names and there are 1 or 2 other similar brands. All are a series of removable and clear appliances, approximately 30 total, that are worn by the patient except when eating. They are removable and each different one slowly adds incremental pressure for movement of the teeth into the more acceptable position. They are truly clear acrylic (plastic) aligners.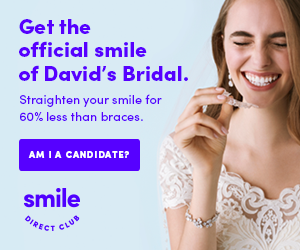 This clear acrylic aligner has some limitations and cannot be used in advanced cases. Clear acrylic aligners are considered not quite as effective as conventional braces but are-so on mild to moderate crowding. The teeth can be readily brushed and flossed on a daily basis as well as professionally cleaned by simply removing the aligner. These clear aligners, or invisible braces, enhance one's physical confidence and self-esteem, especially when compared to conventional braces. Aligners, such as Invisalign, are not used for complicated orthodontic cases but can be readily used and successful on crowded front teeth, correcting spaces between front teeth, most crooked teeth, and uncomplicated overbite (upper teeth coming down too far over lower teeth), as well as overjet cases. Overjet is the upper teeth being too far forward of the lower teeth.
The use of clear aligners requires more discipline from the patient as well as motivation. They must wear them! They must also not lose them as this causes a delay in completion of the treatment, plus additional cost.
Porcelain dental braces or brackets, also known as ceramic or tooth-colored brackets, of course are less obtrusive aesthetically, but can stain or break. Fortunately porcelain brackets have greatly improved recently and they are less likely to break. Also another improvement is that there is less friction between the porcelain bracket and the arch wire which improves treatment time. Even with all the improvements, porcelain brackets are less durable than stainless steel brackets. If one elects to use porcelain brackets, it should be known that sometimes the porcelain brackets on the facial side of the lower front teeth may actually cause wear of the enamel on the inside of the upper front teeth. If that is the case, porcelain brackets are recommended on the facial side of all upper teeth as well as just the lower back teeth, but stainless steel brackets are recommended only on the facial side of the lower front teeth.
There is a combination treatment of clear brackets, arch wire, and clear aligner. It is called Damon Clear and supposedly trims the treatment time by approximately 6 months.
There is one more type of "invisible" orthodontic treatment. It is called "Inside Braces" or lingual braces, meaning that all attachments are on the inside of your teeth, towards the tongue and out of sight. They may be a little more uncomfortable, more expensive, and the treatment time is slightly longer. They are often called iBraces or Incognito Braces. Other brands are Suresmile Lingual QT, STb Light Lingual System, and In-Ovation. They are fixed and non-removable but are much more appealing to those who are often in the public  since they are not visible. They may have a slight affect on your speech but this is usually overcome rather quickly.
Clear braces of any kind have resulted in an increase of adult orthodontic cases. Adults can now improve their appearance, enhance their smile, and gain more self-confidence with properly aligned teeth. Overall dental health is improved as straight teeth are less likely to have gingivitis, decay, and periodontitis because they are much easier to brush and floss and remove the causative bacterial plaque. It has been proven that periodontal disease affects the heart and may be involved in other systemic diseases, so the benefits of orthodontics are more than just aesthetic.
The fee for the orthodontic treatment should fall in the range of $3,000 to $7,500 depending on the type of appliance used and the duration of treatment. If you have dental insurance, they will help in some cases. They usually have a lifetime total of around $1,500.
Obviously the treatment time of the different types of braces varies by a few months. Stainless steel braces are the most predictable and usually take 18-24 months with ceramic braces and inside braces taking a few months longer. The less advanced cases which use acrylic aligners, usually take less time of approximately 12-15 months. With any orthodontic movement of the teeth, a retainer which holds the teeth in their final position is essential.
Today's Dentist
Life Member of American Dental Association, Emeritus Fellow of Academy of General Dentistry, American Association of Implant Dentists