If you're like most people, you probably don't enjoy going to the dentist. Especially not for anything that sounds invasive, like a dental deep cleaning. After all, it involves poking and prodding with those scary-looking tools inside your mouth. You may avoid even having to go to a dentist: but you may need a dental deep cleaning.Basically, you're supposed to go to the dentist fairly regularly. If you don't, unwanted substances will build up in your mouth and compromise your oral health.Fortunately, a dental deep cleaning isn't all that bad. It's more involved that your everyday tooth cleaning, but it's not the nightmare you might expect. As they say, knowledge is power, so it might help to learn more about what this process actually entails.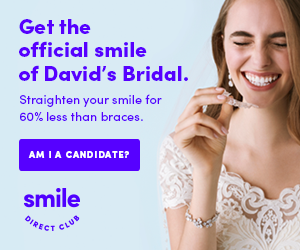 ​Image via Pixabay
What is a Dental Deep Cleaning?
Basically, a dental deep cleaning is a procedure performed by your dentist. The purpose is to treat gum disease and periodontal disease.
A dental deep cleaning is similar to a regular teeth cleaning, but it is more extensive. It involves cleaning both the surface of your teeth and the roots of the teeth.
It's not as serious as most oral procedures, to put your mind at ease. However, you do need at least two appointments to get this procedure done.
​When Do You Need a Dental Deep Cleaning?
It's recommended that you go to the dentist every six months. During this appointment, your dentist will remove plaque, polish the surfaces of your teeth, and use a periodontal probe to check the health of your gums.
But, what happens when you don't go?
Basically, if you let your oral health go, your gums can actually pull away from your teeth. Your dentist will check to see if this has happened. It'll also be of concern if your gums bleed easily or have pockets that have formed around the teeth.
The reason your dentist will check on all of these things is fairly important. They want to make sure you don't have periodontal disease.
Essentially, a dental deep cleaning is a measure that could protect you against periodontal disease. People need this procedure in certain situations.
​Image via Pexels
You haven't been visiting the dentist enough…
Many dentists will say that you are need of a dental deep cleaning if you haven't been getting your teeth cleaned every six months. However, the criteria will vary depending on which dentist you talk to.
It really comes down to the health of your teeth and gums. People who brush and floss regularly and go to the dentist on a regular basis typically won't need a dental deep cleaning.
However, those who might have let their oral health go a little bit are more likely to need it. They will need to go to a dentist to know for sure, as people are susceptible to different dental problems.
Since the opinions of different dentists can vary quite widely, it might actually be a smart idea to get a second opinion. It's not a surgery, but it is more invasive than a regular teeth cleaning. You probably only want to have the procedure if it is necessary.
…And you don't want periodontal disease
Of course, you don't want periodontal disease. What is periodontal disease, you ask?
Periodontal disease happens when the structures around your teeth are infected. These include the gums, alveolar bone, and periodontal ligament.
These structures tend to become infected when bacteria builds up. Eventually, the problem worsens to the point that the structures are destroyed. You can get to the point where you need to get your teeth removed.
Of course, this doesn't mean all bacteria is bad. We all have bacteria in our mouths. But you do need to be brushing and flossing on a regular basis.The bacteria mix with other substances to form plaque on your teeth. When you don't clean the plaque away, it hardens informs tartar. Only your dentist can remove tartar.If you don't go to your dentist, you may have tartar on your teeth. This can lead to inflammation of your gums, or gingivitis.
Some bad news: If your gums bleed easily, you likely have gingivitis.If you don't take care of it at this level, it can actually lead to periodontal disease. When it gets to this point, the inflamed tissue will begin to pull away from the teeth.The spaces between the tissue and your teeth are known as pockets. They will become deeper as time goes on. Then, more of the tooth below the gum line will be exposed to bacteria.Healthy gums have pockets that are no more than 3 millimeters deep. If you have pockets deeper than that, you are more likely to need a dental deep cleaning.
Symptoms
A lot of people who have gum disease aren't even aware. The disease is often painless.However, there are certain signs. These include bad breath, gums that bleed easily or pull away from your teeth, pus around your teeth and gums, and loose teeth.
Diagnosis
Remember, ideally, you should be going to your dentist every six months. If you have been, it is very unlikely that you would need a dental deep cleaning.However, if you haven't been, they can examine you to see if you would need one. Your dentist will use a periodontal probe to check the health of your gums. Specifically, they will look at the size of your pockets.If you have pockets that are deeper than 4 to 5 millimeters, you may have infected gums.In this situation, it will be important to remove the bacteria. The purpose of this will be to protect the bone structures in your mouth. After all, you don't want to get to the point where they have to start removing your teeth.
​The Deep Cleaning Process: What to Expect
If the pockets between your gums and teeth are 3 millimeters or less, you should be fine with a regular teeth cleaning. However, if they are significantly deeper than that, you might need a dental deep cleaning.
The procedure consists of two steps. These are scaling and root planing.
You should be aware that this process will likely take more than one visit to complete. Also, your dentist will likely use a local anesthetic.
Scaling
The purpose of scaling is to remove plaque and tartar from above and below your gum line. Your dentist will make sure to clean all the way to the bottom of the pocket.These are not areas that you can reach with regular brushing or flossing of your teeth. Even regular dental cleanings cannot get to these areas.
Root planing
During root planing, your dentist will smooth out the roots of your teeth. This will help your gums reattach to your teeth.Your dentist will basically clean the roots of your teeth during this step. This can be done using either dental instruments or a laser. The dentist will zero in on rough spots where bacteria are more likely to aggregate.After the procedure, your mouth will be relatively free of bacteria. Also, because the pockets have been cleaned out, the bacteria will have fewer places to go. If you continue maintaining your oral health as you should, the pockets should actually close up eventually.Here's a little more on both procedures:
Follow-up Dental Care After the Deep Cleaning
Of course, you'll need to take certain measures after the dental deep cleaning is over.
For the most part, you'll just need to follow your dentist's instructions. However, it's definitely beneficial to know what you're likely to have to do beforehand.
Eating/smoking
You definitely shouldn't eat anything until the anesthesia wears off. If you do, you might end up biting your tongue, lips, or cheek. You might not think this is serious, but this is something that could actually cause permanent damage.You can eat after the numbness has worn off. However, you should avoid things that are sticky, hard, spicy, or acidic. Avoid smoking, as this will delay the healing process after your dental deep cleaning.
Medications
You should take whatever medication your dentist recommends, as instructed. Likely, it'll be an over the counter medication such as Advil, Tylenol, or Ibuprofen, but you'll be taking it in much higher doses than in the bottle's instructions.Your dentist might also prescribe an antibiotic to prevent infection. If this is the case, you should take it until the supply runs out.
​Overall self-care
Discomfort in the area that was treated is to be expected. During the first day or two after surgery, it might help to use an ice pack on your face in intervals of 20 minutes (20 minutes on, 20 minutes off).It'll also help to keep your head elevated above your heart. Avoid lying down or sleeping on the side where the procedure was performed, if it was only done on one side.Your dentist will likely tell you to rinse your mouth with lukewarm salt water several times a day, usually after eating. There might also be mild bleeding, in which case you should apply light pressure to the area.If any symptoms occur beyond what is normal after your dental deep cleaning, you should contact your dentist to see what you should do.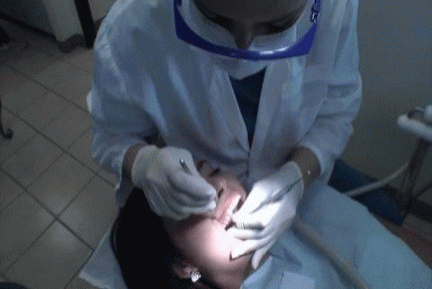 ​Image via Giphy
​All Pumped Up to Go to the Dentist Now?
Okay, that might be a bit of an exaggeration. But now that you know a little bit more about gum health and dental deep cleaning, you have to admit that there are definite advantages to keeping regular appointments with your dentist.You want to make sure that your teeth and gums are as healthy as possible. It's not just about having that sparkling set of pearly whites. It's about preventing bacteria buildup, which means that you need to be going to the dentist regularly.You may not actually enjoy going to the dentist, but it is a good preventative measure. It can prevent you from getting to the point where you have to go through scaling and root planing. Doesn't that make the unpleasantness of that visit to the dentist worth it?What do you think of what you have learned about the dental deep cleaning process? Let us know in the comments section!